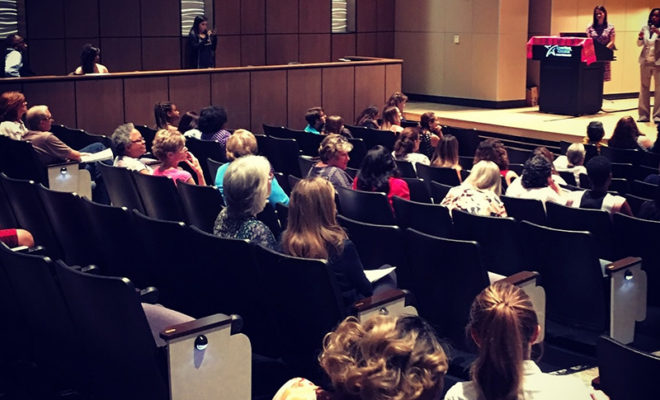 News
Texas HOPE Consortium explores strategies to help At-Risk Families
By |
THE WOODLANDS, TX – On August 2, 2018, The Texas Familias Council convened the Texas HOPE (Helping Outreach Professionals Engage) Consortium at Lone Star College Montgomery to explore the tough issues of implicit bias, policies, and mental health. The Council was established in 2011 with the mission to support families and inspire inclusive communities, and the Consortium was launched in 2016 as an open forum for community resource providers to collaborate on the difficult issues impacting vulnerable communities.
Maria Baῆos Jordan, founder, explained that community resources are perpetually stretched to meet growing needs, "Without strategic focus on strengthening families – the primary support unit, and the community as a safety network, our communities will fail to thrive fully as we chase crisis after crisis. National tragedies of addiction, violence, and poor mental health care are a direct result of cracks we've allowed to grow by distancing ourselves in struggle. There's much more that can be done with the resources we have. We have older generations passing quickly, and a young diverse generation shaping its own vision. We need to make way, and help show them the way."
The Consortium presenters included Dr. Courtney Swisher Banks and Dr. Amanda Venta from the Dept. of Psychology at Sam Houston State University, Houston Immigration Attorney Tatiana Obando, and CISD administrators Rodrigo Chaves and Denise Cipolla.
Baῆos Jordan stated "The human journey includes developing loving relationships, building a career/skills, and caring for the community in which we live. These are actually attributes of our value of hope, and hope fuels our success as a community. Our elected representatives are urged to prioritize improving legal immigration laws, because the focus and unity of our young American generation depends on the trust between communities and institutions. Clear leadership guiding intelligent, humane action can correct decades-old weak policies. It is very doable."
Mental health has long been a neglected public health issue with Texas ranking near the bottom in state resource support. Recent national tragedies involving houses of worship, schools, and public spaces affirms the urgency of addressing the spiraling effect of poor mental health support. Baῆos Jordan feels that "This issue effects every American family, and can't be a taboo. If there is a prepared family unit, community support, and consistent care team to support the struggle, the individual can establish a positive new path. We are seeing the tragic opposite with rising suicide rates and psychological injury in younger children, and aging Americans."
The Council also honored the labor of the late Mrs. Della Mae Henry, life-long resident of the local Freedmen's town of Tamina, Texas. Mrs. Henry's family received the Blessed Light Award on her behalf, caring for countless families facing great hardships. Her daughters, Rita Wiltz, Mary Henry, and Wanda Horton Woodworth were present to receive the award and a painted portrait of their late mother by local artist, Adilene Ramirez. The family and seven young recipients of the Love in Action volunteerism award were serenaded with a moving performance by acclaimed Houston Grand Opera artist Vanessa Alonzo. Liz Rubio, Jeremy Wiltz, Erika Diaz, Julissa Valadez, Reyna Cervantes, Kathy Cerda, and Juan Pablo Trevino each were recognized for inspiring community service.
The Texas HOPE Consortium plans a follow up meeting in October to further discuss these complex issues, and encourage strategic responses from area professionals. Alejandra Tapia, Denise Cipolla, Rita Wiltz, Devery Johnson, Karina Contreras Gonzalez, Liz Rubio, Maria Osteen, Savannah Crihfield, and Eyra Tejada are the committee members that have guided many efforts with the Texas Familias Council. Maria Baῆos Jordan can be reached at 832-527-7251 or texasfamilias@outlook.com.