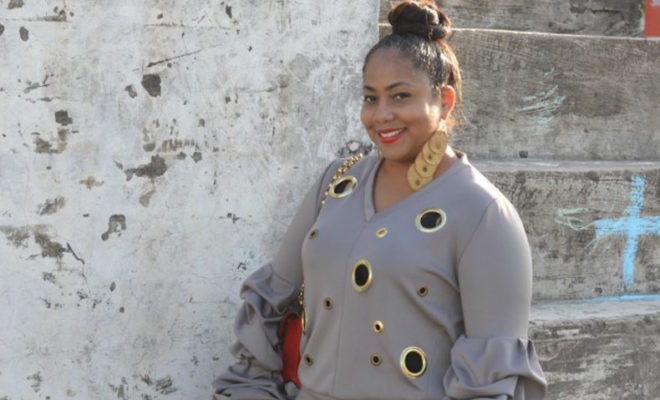 Fashion
ReD Pants Designs and ReDiant Beauty Owner Focuses on Perfection
By |
"You've gotta make the insides pretty," said Ruqayyah Davis, who runs ReDPants Designs and makes her own high-fashion clothes. "I've thrown away some beautiful pieces even after I spent hours on them, because the insides weren't pretty."
After college, Davis headed to California for a job in the fashion industry, in the pipeline to become an assistant buyer for Macy's.
Determined to keep up with the latest trends despite a limited paycheck, she bought a sewing machine.
"I was home that whole summer," said the fashionista who made Barbie clothes from old socks as a little girl. "So I taught myself to sew."
In addition to buying books and watching videos, she went into high-end stores and turned her favorite pieces inside out to learn how they were constructed.
"It matters so much if you use the right stitch with the right fabric," she explained. Over the years, she developed an obsession with fabric and has traveled on many occasions to boutique fabric stores to find unique, quality options to explore her new designs. Her six-year-old son often makes videos of her collection.
As her career blossomed through the ranks at Macy's, The Gap and Walmart.com, so did her expertise in tassels, belts, pleats, fringe and other design elements. Fashion colleagues loved her wardrobe, and she explored creating a label for mass-market production, focusing on the size 12-20 range.
"At the end, they couldn't produce what I wanted with enough quality at a reasonable price," said the self-described perfectionist who still holds a "day job" in fashion at a company in the Willowbrook area. "So I turned to blogging and providing a resource to teach people how to make outstanding clothes themselves."
Her blog, www.ReDPantsdesignsblog.com, launched in 2014. ThRed and Needles, an online sewing group, followed, quickly growing to more than 2,000 members on four continents, ranging from beginners to experts. Davis provides regular project themes, like velvet, pink, sequins or the UFOs (UnFinished Objects) laying around their sewing rooms. Members poll each other for solutions to project roadblocks, and Davis showcases finished projects.
The blog has been feathered in a "sew-along" for McCall's Patterns, Pretty Girls Sew, and Sew Sew Def magazine.
"I love being a resource to fellow seamstresses," said the perfectionist who was up til 5:00 a.m. on Easter morning finishing a multi-fabric kimono and still managed to herd her family of four to church on time. "I wish I'd started blogging sooner—it's so fun to show what you're making and doing something creative."
Last year, she decided to offer 3D eyebrow microblading services through her new business, ReDiant Beauty by ReDPants, after a friend showed up at girls' night with the most perfect brows she'd ever seen.
"I knew I could do that," she said, and immediately signed up for the next course. Now, the perfectionism for clothes translates to a passion for perfect eyebrows. She offers evening and weekend appointments at 118 Vintage Park, Salon Boutique Suite #68.
Davis advises beginning seamstresses to study fabrics first. To learn about the textures and how they flow. Then to read books on sewing techniques and join a group like ThReD and Needles.
"It's a real community," she said. "I've made real friendships with these people I've never met in person, and we all want to help each other get better."
To learn more, visit:
ReDPants by Design: www.redpantsdesigns.com
ThReD and Needles Sewing Group: www.redpantsdesigns.com/thred-and-needles-.html
ReDiant Beauty by ReDPants: www.rediantbeauty.com
Sarah Greer Bartnick covers businesses and events in The Woodlands and provides communication strategy services to local clients through her firm, SGB Strategies. After attending Baylor University, Sarah spent a decade in Washington, DC, as an aide at the White House and U.S. Capitol and as a strategic communication consultant to government clients through a large consulting firm. She lives in The Woodlands with her husband, two young children and puppy.