Food & Drink
RC Gallegos Takes 8th Place at Pizzaiuolo World Championship
By |
THE WOODLANDS, TX – Just landing from Naples, Italy, RC Gallegos is grinning from ear to ear with news that he is number eight in the world after sharing his award-winning plain cheese pie in Naples, Italy at The Caputo Cup, Pizzaiolo World Championship. This is a dream come true for the US Pizza Team (USPT) member.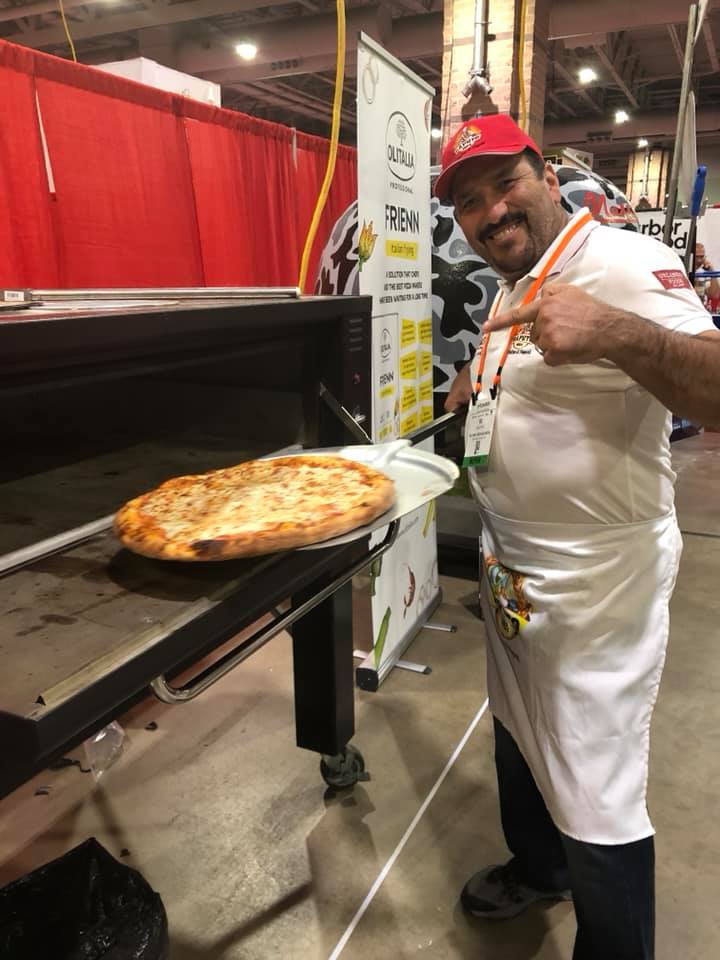 In November 2018, Gallegos was offered a spot on the USPT. Along with 18 other competitors competing in 55 categories, the USPT traveled to Parma, Italy, to compete in the 28th edition of the World Pizza Championship April 9-11. Only 2 members of the elite US Team are from Texas and Gallegos, of RC'S NYC Pizza & Pasta, is the only representative from the Greater Houston area.
"Through the grace of God and a great friend, Daniel T. Saccone, I was able to pull something together and enter a phenomenal pie….my way!" exclaimed Gallegos after receiving notice about his award. "I am very very happy with my pie. Thank you everyone for all your help and especially thank you Dan from Saccone's Pizza & Subs in Austin." The brotherhood is strong among pizza chefs in the United States and they support each other's efforts.
Gallegos was competing against 30 of the best pizzaiolos in the world. A pizzaiolo (pizza maker) is a respected profession in Italy and competition is fierce to be the best. The Inaugural Traditional American Pizza Division of the Pizzaiuolo World Championship was on September 16th-18th, 2019. Gallegos' entry was the "Nona Maria" – a simple cheese pie with marinara sauce, mozzarella cheese, and basil in the Classic American Pizza Division. "Nothing compares to this competition. And ranking among the top 10 of the best Pizza makers in the world is phenomenal," Gallegos remarked.
Unfortunately all the ingredients he brought were lost in baggage in Italy. "There were 4 competitors from the US Team, and 6 competing from the World Pizza Champions Team. They worked with me to get ingredients together for the competition since my bags were lost with my dough, equipment, knives, seasonings, cheese – everything! My complete ice chest with product was lost. My friends (also competing) from the US helped me gather what I needed to make my cheese pie. The camaraderie is epic. My bags were found after the competition!"
The U.S. Pizza Team competes all year round in various trials across the country in anticipation of the World Pizza Championships. Pizzaiolos who make the team remain members for perpetuity. Gallegos will compete again September 25-26 as an individual at the Atlantic City Competition for the Caputo Cup. The Pizza and Pasta Expo, or the Caputo Cup Competition, is Italy's largest renowned pizza competition with over 190 competitors worldwide.
Gallegos placed 2nd in 2015 in NY with a plain cheese pie and 2nd place in 2017 competing against pizzaiolos from across the country in the Gluten Free Category. He represented Houston with his California pizza – baby spinach, zesty Italian sausage, artichoke hearts, roasted peppers, fresh basil, traditional tomato sauce, and whole milk mozzarella on a gluten free crust. The competition expanded in 2017 to include four divisions: Traditional, Non-Traditional, Pizza Napoletana, and Gluten Free.
His award-winning gluten-free and regular dough is now carried at his three local NYC Pizza restaurants, as well as being sold to other local restaurants. Gallegos is working to get his award-winning dough manufactured to offer it to other sports bars and restaurants. Dough takes a pizza from average to great with fermented yeast. Gallegos's dough is a creative combination that ferments for up to 4 days. Every pizza recipe has been created by Gallegos himself.
His first competition was in 2009 at the Pizza Expo in Las Vegas where he placed first for his classic cheese pizza. He went on to place 3rd in 2011, and 2nd in 2013 at the Las Vegas Pizza Expo.
Gallegos opened his first RC's NYC Pizza & Pasta in 2003 on FM 1314 in a 600 square foot building and has additional locations in the Woodlands and Kingwood. Gallegos is excited about branching out and adding other locations. "I would like to franchise The Woodlands location very soon with buildouts and other options. Everything is negotiable." RC's NYC Pizza & Pasta opened their first franchise location in the new Valley Ranch Town Center in New Caney in 2018.
Watch for pizza making classes for team building, organizations, families, or group events. Find out more about RC's NYC Pizza and Pasta by visiting www.RCSNYCPizza.com.