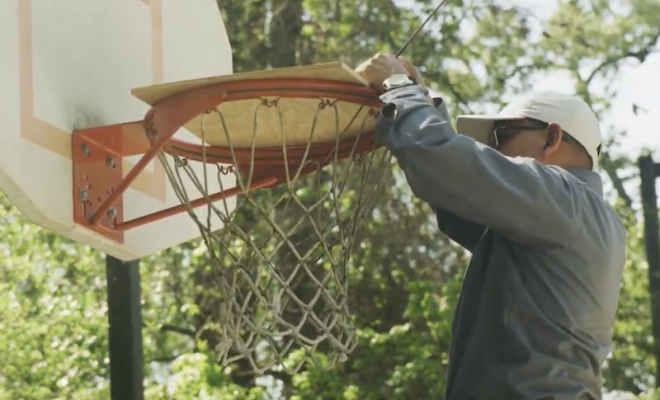 Photo Credit: The Woodlands Township
News
New Order, Gates Locked, COVID-19 Cases in The Woodlands March 27
By |
On March 27, 2020 at 8 p.m. The Woodlands Township shared the following updates regarding the COVID-19 crisis.
New Stay at Home Order issued today from Montgomery County
Judge Mark Keough issued a Stay at Home Order today increasing the urgency of social distancing, a curfew and more.
Read our article and watch the video here.
The Woodlands Township Chairman of the Board Gordy Bunch talks about the Order and other items regarding The Woodlands Township's measures at the video below and here. 
All Township parks were previously closed by order of the Township Board of Directors on March 16, 2020. "There are a number of individuals who are not adhering to the Park closure order and are accessing and using park facilities and amenities in violation of the Township order," Chairman Bunch said. "Just today, two individuals in their 20s were diagnosed positive with COVID-19 in The Woodlands."
Chairman Bunch said all gates to tennis courts, dog parks, skate parks, sports fields, and community gardens will be locked. One exception is the entry gate at Northshore Park. Lake Woodlands has one boat ramp that serves the property owners on the lake, and it is required to maintain boat ramp access for the owners. If Township Rangers find there are major violations of the Order at the park, they will lock the gate and notify all property owners around the lake of the closure.
Gates to the park restrooms have been locked, the nets at volleyball courts have been removed and the rims of basketball courts are in the process of being sealed.
"We're sorry to have to take such drastic steps, but without a cure, the best way to stop this is through social distancing," Chairman Bunch said.
County and State Information
Montgomery County Judge Keough Issues Stay Home, Stop the Spread
Montgomery County Judge Mark Keough issued a stay home order on Friday, March 27, 2020. The order will take effect for residents of Montgomery County at 11:59 p.m. and expire on April 12, 2020. The order stipulates that most businesses cease operations, aside from those on an essential list including grocery stores, pharmacies, healthcare providers, government agencies, gas stations and more. The order also instructs residents of Montgomery County to stay home except for essential errands. A curfew will be in place throughout all of Montgomery County, starting at 11:59 p.m. every night and ending at 6 a.m.
Read our article to view the order and watch the Judge's video here.
Montgomery County COVID-19 Cases
Montgomery County Public Health District, in conjunction with Montgomery County Office of Emergency Management, can confirm Montgomery County now has 47 positive cases of COVID-19, an increase of 6 from yesterday. As of 3 p.m. today, there are 314 negative results and 174 pending tests. We would like to emphasize the importance of staying home if you are able and social distancing. The virus is now in all parts of our county. Regardless of exactly where these patients reside, it is spreading in the community. Increased hygiene practices, like frequent hand washing and surface disinfecting, are imperative. 
Read our article and view cases here.
Harris County COVID-19 Case Count
Harris County Public Health (HCPH) has confirmed, as of 3 p.m. today, 25 new cases of COVID-19, which brings the total to 160 positive cases, including one COVID-19 related death, reported on March 19, 2020. HCPH is also confirming that 14 patients have recovered. These new cases do not include those within the City of Houston. Link to news release.
The Woodlands Township News
The Woodlands Township Board of Directors meeting, Wednesday, March 25, 2020
The Woodlands Township Board of Directors held its first ever public meeting via videoconference. The Directors discussed the Township's response to COVID-19 and will be meeting weekly under special emergency guidelines from the State of Texas. The Directors also voted to defer the planning process of The Woodlands future governance. 
Read our article on the meeting.
View the complete news release and meeting video can be viewed at https://www.thewoodlandstownship-tx.gov/778/Meeting-Videos.
The Woodlands Township Board of Directors will be meeting again, via videoconference, on Thursday, April 2, 2020, and the meeting video will be "live" online with residents able to call in. More information will be released Monday, March 30, 2020.
Waste Management 
Call Center is Available.
Residents needing to report a missed pick up, schedule a bulk pick up or submit another request can contact Waste Management at 1-800-800-5804 or email cssatex@wm.com.
Waste Management continues to provide weekly curbside services according to your designated service day. Due to an increase in volume, pick up times may vary from your previous pick up time, however, trucks are operating from 7 a.m. to 7 p.m. Monday through Friday.
We anticipate that disruptions in service may be inevitable if and when local, state or federal declarations mandate additional operational restrictions.
Help Prevent Collection Truck Fires and Protect the Environment
Waste Management has reported an increase in truck fires due to hazardous waste being put into trash carts.
Batteries, chemicals, motor oils, and propane tanks should be kept out of your recycle, trash, and green waste. These items require special handling at a household hazardous waste facility. Currently those facilities are closed. Please hold onto these items until they reopen.
The Woodlands Farmer's Market
The Woodlands Farmer's Market, located at 7 Switchbud Place, sponsored by the Grogan's Mill Village Association is closed through April 15, 2020. At this time, closing the market temporarily is the best course of action due to the heightened concern of the Coronavirus. The Farmer's Market will send an update email closer to April 15, 2020. Please follow their Facebook page for updates regarding the market.
Visit The Woodlands Township COVID-19 information page for more updates from partner agencies, social distancing strategies, important links, frequently asked questions, live Twitter feeds and more at www.thewoodlandstownship-tx.gov/covid19. 
Read the full March 27 update by The Woodlands Township at https://www.thewoodlandstownship-tx.gov/civicalerts.aspx?AID=2977
Source: The Woodlands Township