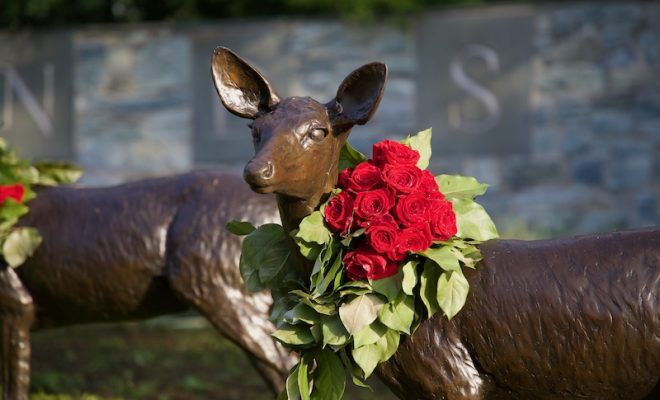 Photography by Rod Prado, Hello Woodlands
News
Local Florist spreads joy through public arrangements in The Woodlands
By |
Ann Engelbrecht, local florist and owner of Sprout Fine Floral Concepts, is spreading joy and creating smiles during a difficult time by installing beautiful floral arrangements in public areas around The Woodlands area.
After Ann's friend and fellow florist, Jason Vorse of Pollen Floral Works in Castle Rock, Washington, salvaged unused blooms due to the COVID-19 crisis and installed a public floral arrangement, she felt inspired and thought, I want to be part of that too.
In sharing her vision with a flower supplier and local officials, she received permission plus the needed materials, about 1000 roses and 400 hydrangeas, to decorate public areas for the community to enjoy.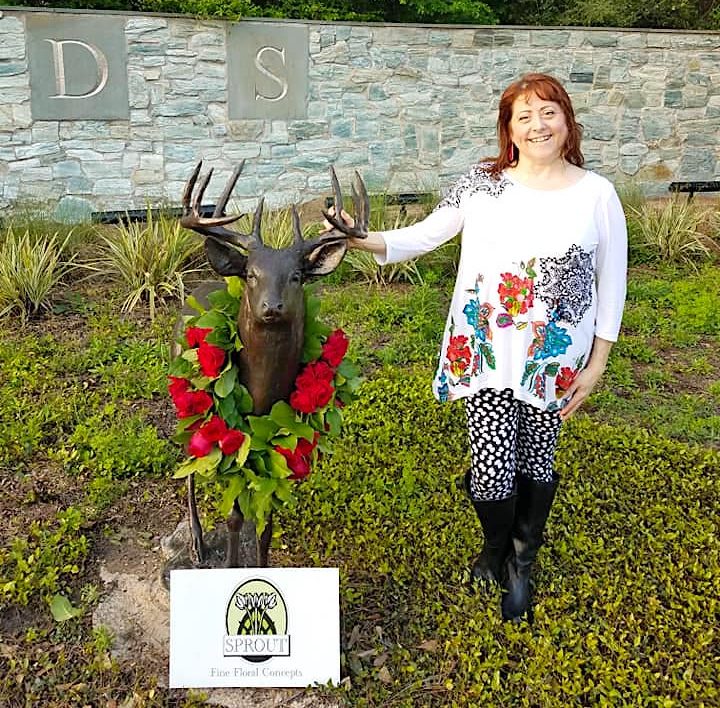 The first public installments was made this past week at the entrance of The Woodlands where red roses and greenery now adorn the necks of the famous deer statues that greet visitors on Woodlands Parkway.
The archway located in Hughes Landing is now the home to second installment with white roses.
Ann shared, "I wanted to create something nice. People drive by and see the installation, coming upon it unexpectedly. We are all going through a difficult time. Flowers make people happy."
The next installments will be made in Town Green Park, statues surrounding The Cynthia Woods Pavilion, and Oak Ridge North. Ann is grateful to her floral sponsor, Greenleaf Wholesale Florist, and to The Woodlands Township, Howard Hughes Corporation, Oak Ridge North for making the installations possible.
View photos of the public floral installments on the Hello Woodlands Facebook page.
Bob Milner, The Woodlands Township Board of Director, shared, "This is one great example of how our community continues to step up in times of need. While one may think that placing fresh flower arrangements around our community is a small thing; Ann's selfless commitment to helping make things just a little bit brighter and happier for those in our community is an example of her great heart to service. She personally contacted her suppliers who had closed, agreed to take all of their remaining inventory and drove herself to pick up the inventory. She then has taken the time to drive around our community and placed those fresh flowers in areas of community awareness to help bring a little smile to everyone's face during this challenging time."
Jim Carman, President, Houston Region, The Howard Hughes Corporation, stated, "Sprout Floral has graciously donated their flowers to provide a 'get well' gesture for our community. We appreciate their efforts and hope that we can all return to normal soon."
Dawn Candy, Mayor Pro Tem for the City of Oak Ridge North, shared, "It's a wonderful way to spread beauty and hope in our community. Fresh flowers always make us feel renewed and it is very much needed and appreciated during this time."
Like other businesses, the COVID-19 outbreak has been devastating for the floral industry, leaving florists, vendors and wholesalers with perishable product after the deluge of cancelled events, weddings, and celebrations. Brides and events are requesting for deposits back. Farms are throwing away flowers, not bringing product to markets, and the logistics of shipping flowers is not worth the effort for many distributors during this time. Ann shared the crisis is catastrophic, with many farms and florists expected to go out of business.
"Our business is slow, but I have faith, I have optimism, and we run a tight ship financially. I can't last forever, but I can last a couple months. I'm so blessed to be sponsored to create the installation."
Despite the decrease in business and inability to receive flower shipments in the foreseeable future, Ann is thankful that her small business is prepared. Sprout offers a variety of products such as hearty green house plants, rose globes, orchids, wreaths, accent pieces, fragrance baskets with potpourri, stuffed animals (a.k.a. hug ambassadors), balloons, non-helium bouquets, and many more unique gift items.
Sprout Fine Floral Concepts also offers a "no-touch delivery" with no danger of contact that Ann calls "ring, drop and ditch" where she will ring the doorbell, drop off the gift at the door, stay within social distancing standards to ensure the package is received, and be on her way.
Ann shared that how florists do business is rapidly evolving and changing during this time, shifting to having an online presence like never before. Orders can be made and purchased on Sprout's website at allaboutsprout.com or customers can call (281) 203.5040 or email fineflowers@allaboutsprout.com.
In addition to buying plants and unique gifts, Ann is grateful how supportive her loyal customers and have been during this difficult time. "Several people have called and ordered gift card. I can't tell you how moved I am that people would do that and so floored with emotion. I have a little store, when you call our phone number – people are going to talk to me directly, I make all the designs. I know what I call my 'fine flower friends' have my back!"
Ann encourages the community to be careful, practice social distancing, and avoid visiting people – and send friends and loved ones gifts instead. Need a gift for a birthday, anniversary, Mother's Day, or just to say hello? Call your local florist! Ann is looking forward to continue creating special designs and delivering smiles – when we honestly need them most.
"I have found the silver lining – the opportunity to serve. That's what florists do, they serve people."
Learn more about Ann Engelbrecht and local business Sprout Fine Floral Concepts located in The Woodlands, Texas by visiting allaboutsprout.com.