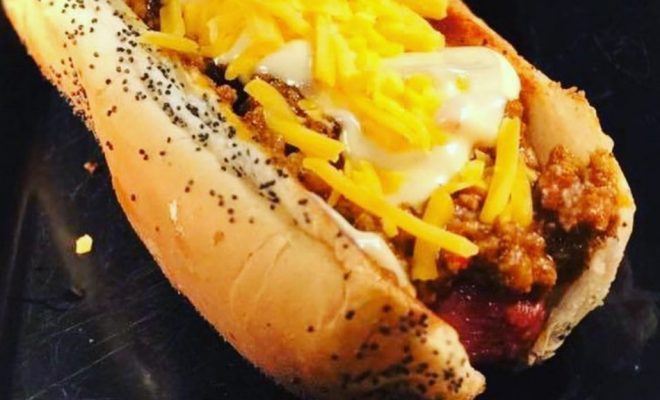 News
Local Favorite Hot Dogs in Montgomery County and Northside
By |
Whether steamed or flame broiled, hot dogs have always been a popular summer food for picnics, ball games and everyday cookouts. From the standard franks, usually made of beef or pork mixture to the healthier alternatives are made with chicken, turkey or even tofu, there's always something for everyone. Although typical toppings or condiments include mustard, ketchup, mayonnaise, and relish, each regional area have some pretty strong opinions on what should top their hotdog. New York and Chicago are probably the most well known states for Hot Dogs, each with its unique style and preparation, but the rest of the country, including Texas has their own variations. Even popular in countries like Venezuela and Mexico, some with over the top sauces and original toppings.
Nick's Local Eats Facebook Group held a month long hot dog poll where locals voted for their top favorites in the North Houston and Montgomery County area. View the results below and commentary from a few of the owners.
Buldogies, located at 14543 TX-105 #406, Conroe, TX 77304. Visit the Buldogies Facebook page here.
We asked Buldogies co-owner Jamie Mancil what makes his Montgomery, TX everything hot dog restaurant so popular. "I think What makes our hotdogs so special and so well loved is mainly the ingredients we choose but also, it's all about the bun. Our buns are slightly sweet, toasted till golden brown and able to withstand the onslaught of toppings we're piling on. buldogies creators are also cooking and expediting every single order that comes in. No fill in cooks. Consistently buldogielicious every single time."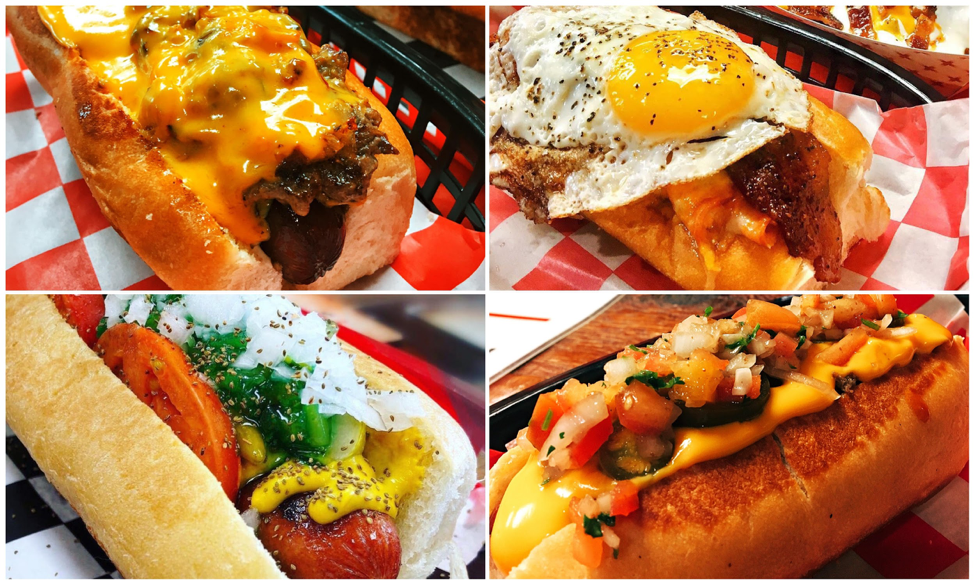 "We're also using Nathan's and Hebrew National Hotdogs. We choose boar's head deli meats and cheeses for our unique style of dogs which we've dubbed "outlaw Dogs" pairing premium deli cuts with a hotdog is like having the best of both worlds, a hotdog and a deli sub melded together into one buldogielicious package. Most of all, what makes our hotdogs special and so well loved, is that buldogie bacon. (laughs)"
Buldogies is owned by Jamie Mancil and Breian Majko.
Brazilian Joe's, located at 19640 Kuykendahl Rd, Spring, TX 77379. Visit their website at BrazilianJoes.com and Facebook page here.
Owner Jordan Fowell has one of the most original and unique hot dogs on the northside. Jordan explained "Our Brazilian Hotdog is something you can actually find on the streets of Brazil. It took us nearly six months to develop the custom made hotdog bun with our baker. In order to perfect texture and flavor we eventually had to ship an actual bun from Brazil, and now we have our authentic extra large hotdog bun"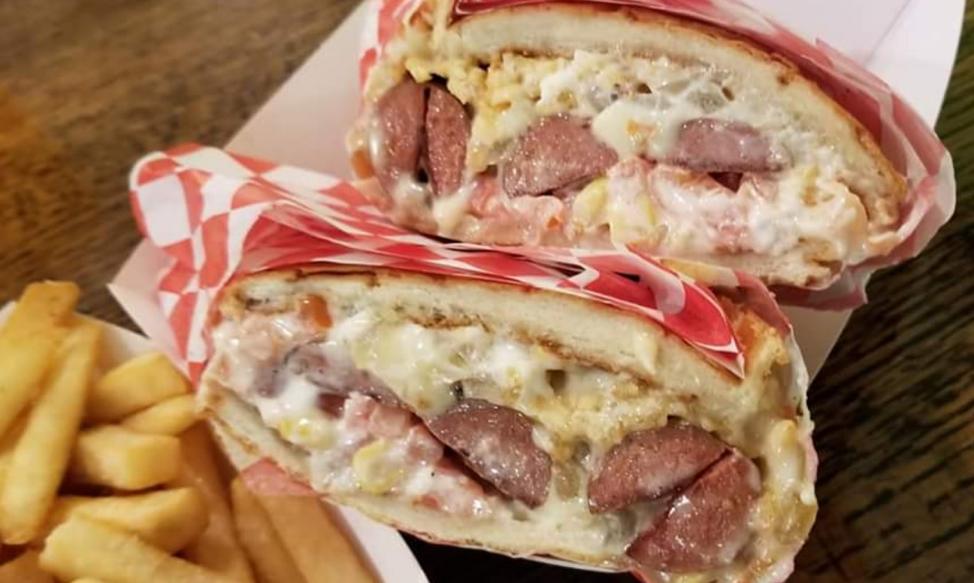 "Inside that bun are 2 all-Beef franks, requeijão (Brazilian cream cheese), mayo, sweet corn, diced tomatoes, caramelized onions, American cheese for the American twist, and potato sticks for that nice crunch. To finish this off, we panini press that bad boy."
"You have the option to add shredded chicken (which is standard in Brazil) and our signature House-made candied jalapeños. Talk about a flavor explosion. This hotdog is unlike any other you'll find in Houston, and is sure to fill you up."
Divine Dogs, located at 26119 Interstate 45 N #101, The Woodlands, TX 77380. Visit the website at Divine-dogs.com and Facebook page here.
Here is a newer hot dog company owned by Brett Michael. We asked Brett what makes Divine Dogs unique from other places that serve hot dogs." we are a Gourmet Hot Dog Experience. Divine Dogs is a family owned and operated 'for purpose' company who gives back to our community. We create, make and source our products locally. Divine Dogs specializes in 19 varieties of sausages, gourmet Divine Dogs and our award winning chili. We make it fresh so you can eat it fresh. #Lifeisdivine"
The Omega Grill, located at 399 Sawdust Rd, Spring, TX 77380. Visit their website at TheOmegaGrill.com and the Facebook page here.
We asked owner Marianna Huliaris of The Omega Grill why they decided to use a 1/4lb all natural beef hot dogs from 44 Farms and what makes these dogs special?
"Hmmmm, we were inclined to try the hot dogs because of how good the 44 Farms ground beef is for our burgers, they offer an all natural beef hot dog and after trying one there was no turning back. We have people come and buy packages of them to cook at home from us all the time too."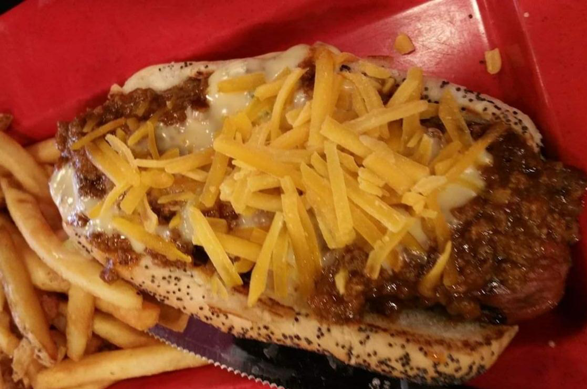 Moo House Cafe, located at 7310 Louetta Rd a120, Spring, TX 77379. Visit their website at MooHouseCafe.com and Facebook page here.
According to owner Joan Tong of Moo House Cafe, the two most popular dogs are their Mexican Dog – Hot Cheetos, jalapeños and green sauce and Korean Dog – kimchi, Sriracha and spicy mayo.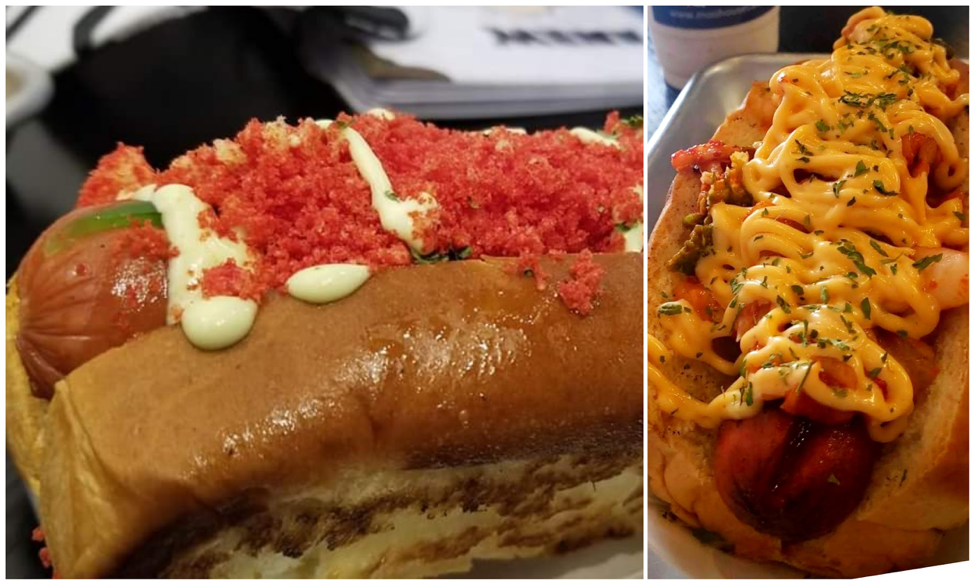 Some additional favorites and different styles of hot dogs on the northside of town and in Montgomery County are:
Sazon Latino Authentic Venezuelan Cuisine, located at 21950 Meadow Hill Dr, Spring, TX 77388. Visit their website and Facebook page here.
"Full Equipo" – A hot dog with cabbage, tomatoes, cheese and potatoes sticks
Katz's Deli, located at 19075 I-45, Shenandoah, TX 77385. Visit the website and their Facebook page.
"Kosher Style – Foot Long" – All beef hot dog on a bun loaded with sauerkraut and onions
Ron's Hamburger & Chili, located at 14257 Farm to Market 2920 #210, Tomball, TX 77377 and 18415 Farm to Market Rd 1488, Magnolia, TX 77354. Visit their website and Facebook page.
"Chili Cheese Coney" with mustard and onions on request
B.Good, located at 2162 Spring Stuebner Rd #180, Spring, TX 77389. Visit their website and Facebook page.
"Kids Plain Hot Dog"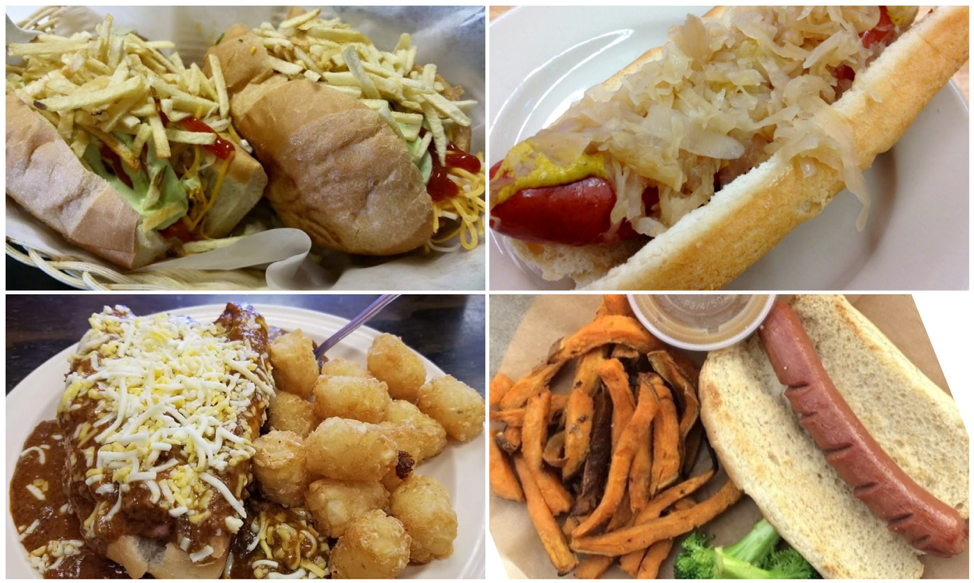 Street Hotdogs at 403 Eats Tomball, located at 403 Farm to Market 2920, Tomball, TX 77375. Visit their Facebook page.
"Seattle Dog" – all beef steamed hot dog with Bacon, cream cheese, topped with caramelized onions, diced jalapeños and crushed jalapeño kettle chips.
Calinomb-nia, located at 17446 Kuykendahl Rd, Spring, TX 77379. Visit the website and Facebook page.
"CaliBomb Dog" – Bacon wrapped hot dog, with mustard, ketchup, onions, tomatoes, jalapeños.
Beck's Prime, located at 2120 Buckthorne Pl, The Woodlands, TX 77380. Visit their website.
"Old Fashioned Hot Dog," ¼ lb all beef frank quartered and butterflied on a hamburger bun with mustard, pickles and onions.
Ellen's Cafe, located at 307 Gentry St, Spring, TX 77373. Visit the website and Facebook page.
"Gourmet Chili Cheese Dogs," 2 Wagyu Beef Hot Dogs, HeartBrand Certified Akaushi Beef Chili, Red Onion, Mustard, Cheddar Cheese, Toasted Challah Bun, choice of side.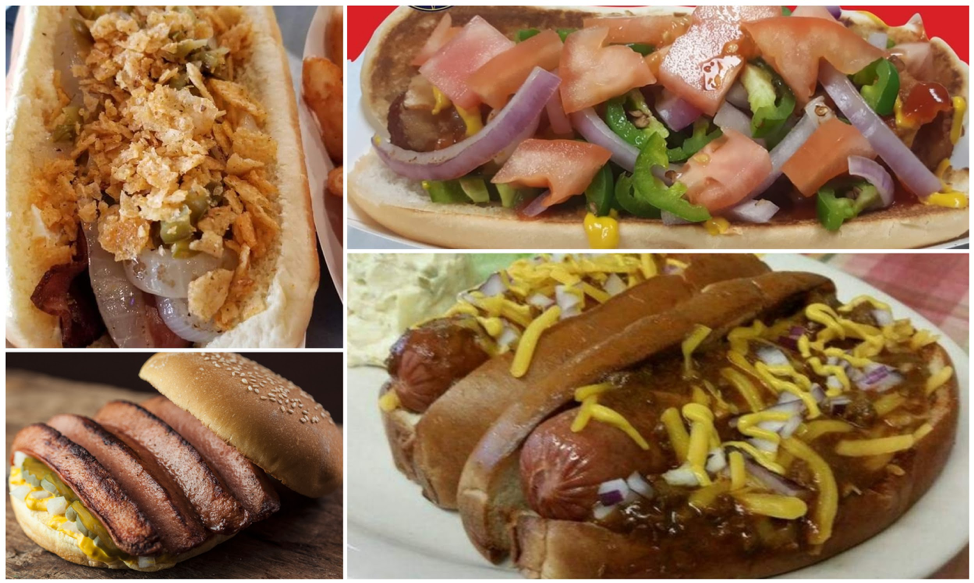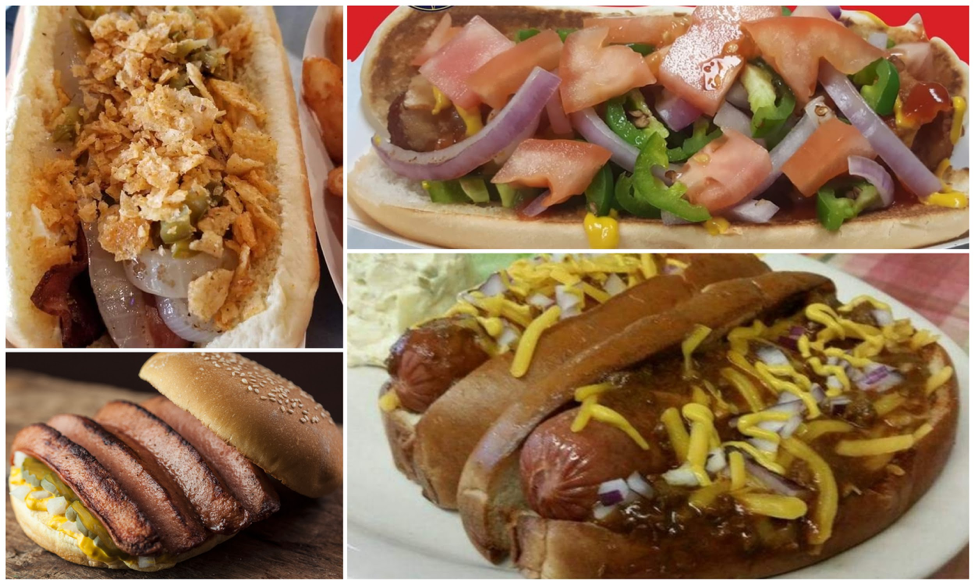 Nick Rama is a food writer, contributor of Hello Woodlands, and shares his restaurant experiences on Nick's Local Eats at NicksLocalEats.com and the Q Up The Burgers Facebook page. Nick enjoys helping the small business owner, supporting his community with fundraising for food banks, and plans tasting events with locally owned mom and pop restaurants.