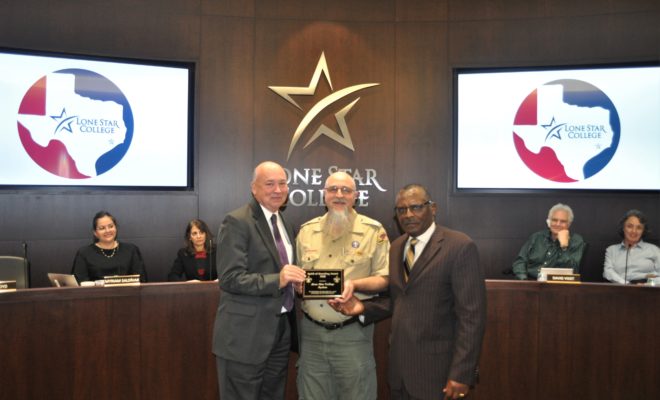 Lifestyle
Local Boy Scout District Presents Spirit of Scouting Award to LSCS
By |
MONTGOMERY COUNTY, TX – The 2018 Spirit of Scouting Award was presented to the Lone Star College System (LSCS) at their February 7, 2019 Board of Trustees meeting. The Lone Star College System has made facilities and equipment available at the Lone Star College-Montgomery Campus to the Tall Timbers (and predecessor George Strake) District for over 15 years for the annual Merit Badge University.
Merit Badge University is an opportunity for Scouts in troops, crews and ship of any rank, to work on one or two merit badges. Each Scout is expected to prepare ahead of time (by reading the merit badge book and completing prerequisites), and to participate fully during the course in order to receive credit for the requirements completed. A minimum of twenty-one merit badges are required for a Scout to earn the rank of Eagle Scout. Merit badges also provide insight into many disciplines, skills and careers.
The Spirit of Scouting Award is designed for presentation to a noteworthy individual who has performed exceptional and unusual service to young people in hard-to-reach communities over a long period of time.
The Tall Timbers District encompasses scouting units in Conroe Independent School District (south of the San Jacinto River) which serves The Woodlands, Oak Ridge, and Shenandoah. The Tall Timbers District is located in the Sam Houston Area Council, Boy Scouts of America.
The mission of the Tall Timbers District is to provide leadership and vision to its units through training, program support, membership growth opportunities, and recognition of success in leading youth to lifelong values, service, and achievement. The mission of the Boy Scouts of America is to prepare young people to make ethical choices over their lifetime by instilling in them the values of the Scout Oath and Law.
Sources: Stuart Schroeder, Vice-Chairman Tall Timbers District, BSA, Tall Timbers District, SHAC, BSA Facebook Page, Sam Houston Boy Scouts of America Website