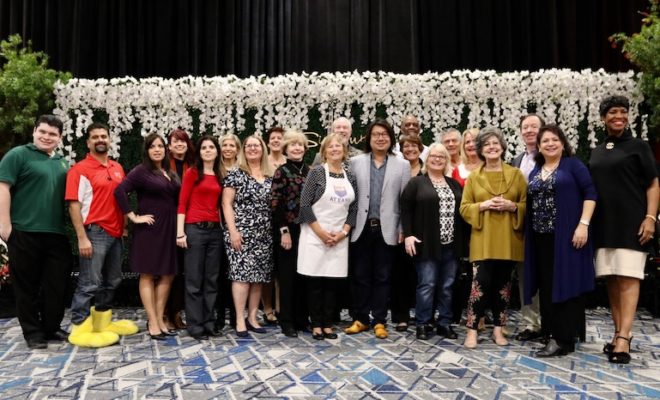 Events
Kevin Kwan speaks at Signatures Author Series with Local Authors
The John Cooper School's 14th Annual Signatures Author Series was held on Friday, November 30 at The Woodlands Waterway Marriott, featuring international sensation Kevin Kwan, author of the trilogy that began with Crazy Rich Asians, that was subsequently a box-office record-breaking feature film.  Also featured were local authors, book signings, and luncheon that featured Kevin Kwan as the keynote speaker.
View photos from the event on the Hello Woodlands Facebook page:

An Interview with Kevin Kwan
In a private interview prior to the event, Kevin Kwan shared his story and answered questions with the local media, including Hello Woodlands.
Kwan cheerfully greeted each member of the media, sharing, "I very much believe in small local press." Kwan shared how he moved with his family from Singapore to Texas when he was 11, graduated from Clear Lake High School, and earned a BA in Creative Writing from The University of Houston-Clear Lake. Kwan revealed that during his life here in Houston he wrote for the local paper, Houston Public Media, and was a freelance writer for the Houston Press.
"Growing up, I was a mediocre student. I didn't write at all. I did more drawing, was more of a visual artist. It was only until my Senior year at Clear Lake High School where I got into creative writing. I remember writing a paper about Marilyn Monroe. University of Houston was an amazing stepping stone to explore my creativity."
Kwan moved from Houston to Manhattan to pursue a BFA at Parson School of Design and spent his early years in the city working for Martha Stewart Living, Andy Warhol's Interview magazine, and the design firm M&Co. In 2000, Kwan established his own creative studio where he specialized in producing high profile visual projects for clients such as the New York Times, the Museum of Modern Art, Rockwell Group, and TED.com.
Kwan never lost his passion for books and decided to return to his first love – writing – and the rest is history.
When asked what is was like to see one of his best selling novels be converted into a now successful film, Kwan replied, "It's been surreal to see my book as a movie. I never thought my books would be published. I wrote it for myself – for me, and my friends who know me."
"It was a long long road for me," Kwan recalled. "I lived a very simple life, focusing on fun interesting work. I had really hard years, but then I had the faith that something would happen. One year I designed a book cover for Elizabeth Taylor, and the next – nothing. I had a busy creative vibrant life. But, it all worked out. What kicked things off was one phone call. My editor received a voicemail from Wendi Deng, who wanted to acquire the rights to produce the film. Two days later I was having lunch with Wendy and she started the ball rolling."
"I think that my dad is very responsible for my success." Kwan's father moved their family from Singapore to Clear Lake to open a Marble Slab Creamery franchise. Kwan was one of the youngest serving scoops of ice cream right beside his family. Years later after receiving the tragic news that his father had cancer, Kwan came back to Texas. Kwan spent his time taking his father to doctor and hospital visits in the Houston Medical Center. During the long trips back and forth, they talked about his childhood, his father's past, their family history, and the colorful characters that made up of the sometimes crazy and extravagant world of Singapore. In talking with his father, Kwan was then inspired to document these stories and share the colorful lives they led. Thus, Crazy Rich Asians was written, the book that started it all,
As for how he felt about the adaptation of the book to the movie, Kwan smiled and shared, "They kept the spirit of the book. I really love what they did. I even helped recreate the fish in the bed scene."
In writing the book Crazy Rich Asians, Kwan revealed, "I first sat down to write a dark, dramatic and angry exposé. In the middle of writing, a comedy started emerging with characters popping up, saying what they wanted to say."
When asked about the diversity of the film's cast and creating a new trend, Kwan answered, "In the future I hope we see much more diverse casts in the future. Now it's a trend, but I hope it's not just a trend."
Will we get to read more about Nick and Rachel, the stars of Crazy Rich Asians? "Hopefully! Yeah, one of these days they will resurface. But, I have so many more stories to tell."
To aspiring writers and to his younger self, Kwan would give this advice: "Take more risks, have more fun. I had to experience life first before I was able to write the stories and books. Every time I took risks, I learned more. A lesson to learn from Crazy Rich Asians is that money doesn't buy happiness and you have to find the happiness inside. Do stuff that interests you and work with people that are smarter than you."
So what's next? Kwan is currently developing and planning to produce two TV shows, one Drama series with Amazon and the other called "The Emperor of Malibu" with CBS.
Thank you to Kevin Kwan, Deb Spiess, and The John Cooper School for this special interview. To learn more about Kevin Kwan and Crazy Rich Asians, visit www.kevinkwanbooks.com.
Local Visiting Authors
The Visiting Authors segment of the Signatures Author Series offers the unique opportunity to visit with a variety of authors who ae available before and after the luncheon to sign, sell and discuss their books.
Before the event, Hello Woodlands interviewed Co-Chairs of the 2018 Signatures Author Series, Susan DeMarco and Christie Swanbeck, and visiting authors, Lorrie Parise and Kathryn Lane, about the upcoming event. Watch the video below and on our Facebook page.
2018 Beneficiary
As is tradition, a portion of the proceeds from each Signatures event will be given to a local literacy organization. The 2018 beneficiary is the Montgomery County Memorial Library System (MCMLS) that seeks to be a leading resource for information, education, culture and recreation, contributing to life-long learning and adapted to the special needs and interests of the community. Learn more at countylibrary.org.
The John Cooper School
The John Cooper School's mission is to provide a challenging education in a caring environment to a diverse group of select students, enabling them to become critical and creative thinkers, effective communicators, responsible citizens and leaders, and lifetime learners.
Learn more about The John Cooper School and upcoming events at www.johncooper.org/specialevents.