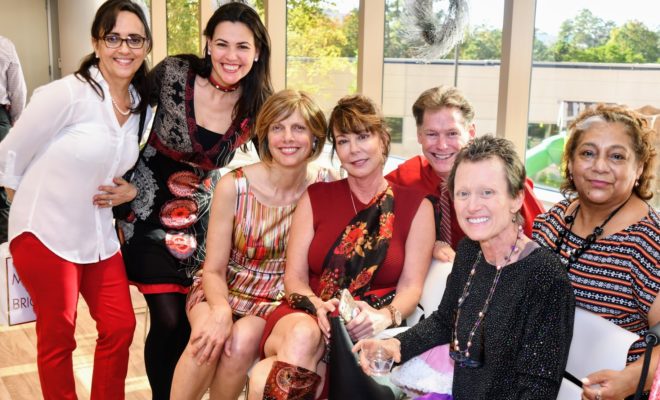 News
Interview: Canopy Cancer Survivorship Center's Amanda Poole
By |
Supported almost entirely by philanthropy and volunteers, Canopy is a caring community of hope, healing and empowerment with a mission to enhance the quality of life for individuals affected by cancer as well as those who support cancer survivors. Canopy offers a range of free services such as one-on-one counseling, cooking demonstrations and teachings, yoga classes, massage therapy, a private dressing room area for breast prosthesis and bra fittings, a wig salon for individuals coping with hair loss and so much more.
"Cancer affects the entire family. Whether it's the breadwinning dad, the nurturing mom, the younger sister or supportive uncle – cancer takes a toll on the physical, emotional and social aspects of every family," said Amanda Poole, manager of Canopy. "Regardless of where someone is in their cancer journey or even where they received treatment, patients, survivors and family members are invited into Canopy."
Watch our interview with Amanda Poole, manager of Canopy, to learn more about Canopy and how to get involved at the upcoming fundraiser, Canopy Quest:
About Canopy
Canopy is a first-of-its kind cancer survivorship center at Memorial Hermann The Woodlands. It is a community resource for survivors, regardless of where they received treatment or where they are in their cancer journey. It is a safe place to receive support and encouragement through intentionally designed free programs that meet the emotional, social, physical and educational needs of survivors and their families. Cancer affects the entire family, which is why Canopy provides care to the survivor as well as their whole support system. Programs like yoga, oncology massage, art therapy, support groups, wig/prosthesis fittings, doctor seminars and classes for children whose parents have cancer provide comprehensive care throughout the entire cancer journey. Canopy offers more than 60 programs on a monthly basis and has a team of 70 volunteers who work tirelessly to create a safe haven for those going through such a traumatic battle. Learn more about Canopy here.
Canopy Quest
MINI of The Woodlands is hosting a one-of-a-kind fundraiser with a scavenger hunt on Sunday, November 4, 2018 to raise funds and awareness for Canopy, a Cancer Survivorship Center at Memorial Hermann The Woodlands Medical Center. This is the first annual Canopy Quest fundraiser and all proceeds from Canopy Quest will go back to the programing at Canopy.
Canopy Quest, powered by ExxonMobil employee volunteers, is a community-wide scavenger hunt where teams of four will drive Mini Coopers through the streets of The Woodlands to various locations. The teams will have to successfully complete small challenges at each stop before moving onto the next. They will then return to MINI of The Woodlands for a finale festival where the whole family is invited to partake in games, raffle prizes and food provided by Avenida Brazil, Goode Co. BBQ, and Berry Hill. Additionally, Dairy Queen will be at the event handing out ice cream, and there will be a tailgating area sponsored by CostCo, Southern Star Brewery and The Butler House. Local businesses, including Folk Portraits, Trader Joes, Yoga Pod and Z Med Spa are contributing to the raffle with many more. The entire event will run from 2 to  7 pm at MINI of The Woodlands, located at 16675 Interstate 45 S, Conroe, TX 77385.
Registration to participate in Canopy Quest is now open and sponsorships are currently available at https://www.memorialhermann.org/give-volunteer/foundation/canopy-quest/. A team of four is $100 and sponsorships start at $500.
For more information about Canopy Quest and to get involved, visit https://www.memorialhermann.org/give-volunteer/foundation/canopy-quest/ and follow Canopy Quest on Facebook at facebook.com/canopyquest.