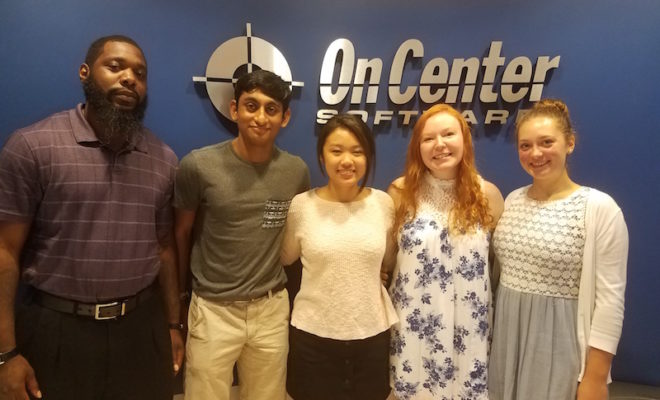 News
Education for Tomorrow Alliance kicks off High School Internship Program
By |
Education for Tomorrow Alliance (EfTA) is partnering with more than 60 businesses in Montgomery County and beyond to offer career exploration opportunities to local high school students. Through the Student Internship Program (SIP), EfTA has matched 120 students in two-week internships based on career interests. SIP provides an opportunity for students during the summer before their twelfth grade year to explore career interests outside of the classroom and gain valuable work experience.
June 4, 2018 was the official start of the 2018 Student Internship Program, but students from 12 participating high schools can work any two-week period in June or July. The program offers students the opportunity to learn by doing. Interns get first-hand insights on companies and industries that interest them while still in high school.
"In most cases, SIP offers participants that first look into a professional career," shared EfTA Program Director Corinne Coulter. "They can get a feel for how their interests can translate into the working world. Plus, students have a meaningful chance to develop soft skills, like networking, which will benefit them regardless of degree or profession."
Education for Tomorrow Alliance started offering a summer science internship program more than 25 years ago. Though internships are now available in a variety of fields, and the greatest demand remains in science, technology, engineering, and math (STEM) fields, as it is often more difficult for students to find STEM internships on their own.
"Our ability to serve 100+ students annually is directly related to our amazingly generous business community," commented Coulter. "Our host partners create engaging experiences that help shape students' long-term career goals. We are grateful to the companies that make an impact year after year when they say, 'Yes!' to mentoring high school students."
Internship participants and hosts will be celebrated at EfTA's Student Internship Program luncheon, presented by Sam Houston State University, scheduled for June 26, 2018 at The Woodlands United Methodist Church. Tickets are on sale now on the Education for Tomorrow Alliance website, www.efta-us.org. All are welcome.
Education for Tomorrow Alliance is a nonprofit organization dedicated to cultivating education and community partnerships that advance student success.With innovative programs focused on career, leadership, and STEM preparation, EfTA has become the portal through which business leaders can access and strengthen local education. To learn more, visit www.eftaus.org.