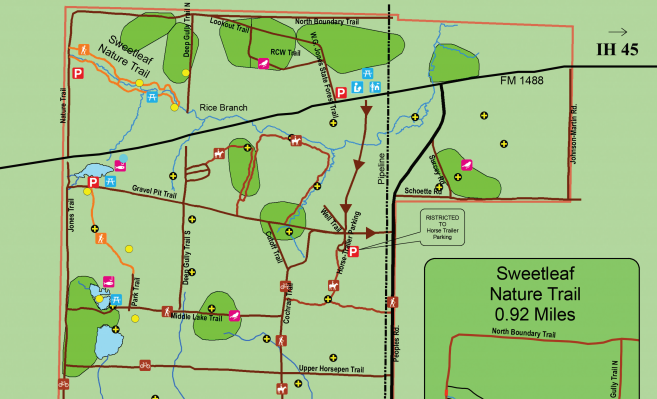 Gossip
Community Reacts, Senator Creighton Responds to Jones State Forest Bill
By |
Texas Senate Bill 1964 is receiving much attention recently from the community, with Hello Woodlands receiving messages from concerned residents about new possible development in William Goodrich Jones State Forest.
Owned by The Texas A&M University System, Jones State Forest consists of approximately 1,733 acres in Montgomery County that hosts a large population of the red-cockaded woodpecker, a federally listed endangered species, and receives over 100,000 visitors annually who attend the signature environmental outdoor learning classrooms. Learn more and view map here.
The bill introduced by Senator Brandon Creighton on March 10, 2017 relates to "the use of land in Jones State Forest for academic and economic purposes" where "the board may use or lease land in Jones State Forest for the construction of buildings or improvements for multipurpose uses, including academic, research, and private commercial uses, when in its judgment it is advantageous to the state to do so." Read the bill here.
Hello Woodlands reached out to Senator Creighton for a statement and received the following response on March 27, 2017:
Dear Senate District 4,

On March 10th, I filed Senate Bill 1964 relating to the Jones State Forest at the request of the Texas A&M University System. Since that time, I have heard from many constituents and stakeholders and I would like to clarify the intent of the bill.

Texas A&M has owned this treasured asset since the 1920's for the purpose of education. Tommy Williams, Former Senate District 4 Senator and current Vice Chancellor of Texas A&M, requested on behalf of the University that I file a bill to allow a public conversation to be held in the State Legislature. I am asking for a hearing to discuss the merits of the University's request to use between 5-10% of the Jones State Forest (southern end near State Highway 242) for educational purposes.

During the five months of a Legislative Session, my office listens, discusses, and studies suggested state policy. We work hard to advance good policy and many times table policy suggestions that require more consideration.

This is a Texas A&M request for Texas A&M use within a Texas A&M asset. Whether or not the University uses a portion of the forest should be a public discussion. My intent with Senate Bill 1964 was to honor the request to begin this conversation.

As an 8th generation Montgomery County resident, I cherish the big thicket, natural timberland and foliage, including the wildlife that occupies the forest. I am not interested in clearing the forest or destroying any wildlife.

As for the conversation, please provide me with your viewpoints. When I became a Legislator, I took an oath to represent all of my constituents and put their needs above my own. I take this oath very seriously. My job as a Legislator is to balance many requests and to help decide what is best for Senate District 4.

I'm listening,

Brandon Creighton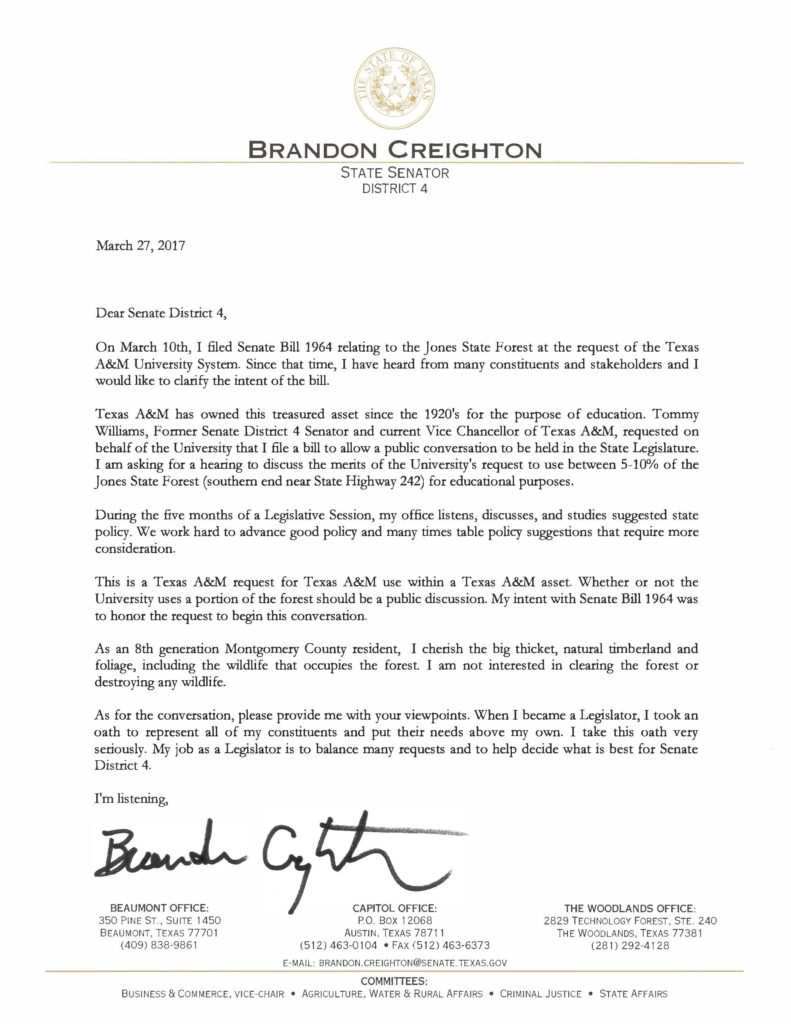 On March 26, 2017, residents launched a Change.org petition that has received over 3,000 electronic signatures and will be sent to Senator Creighton if 5,000 signatures are obtained. A website and Facebook group are also live, linking to the petition plus providing information and support to concerned members of the community.
Read the NEW update from Senator Creighton here.
What are your thoughts on Texas Senate Bill 1964? Share your comments with Hello Woodlands and stay tuned for more updates!