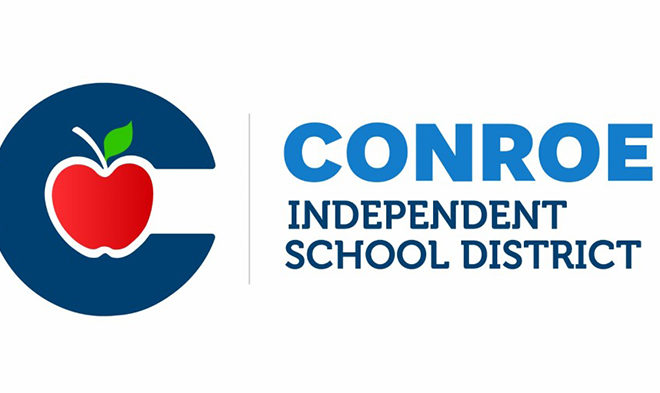 News
CISD COVID-19 Updates
By |
CONROE, TX – Conroe ISD has released its current changes in response to the COVID-19 outbreak. The district has been updating the community on its Facebook page with regular live videos from Superintendent Dr. Curtis Null and updating its website and social media sites.
Grading Guidelines
District and campus administrators along with curriculum experts developed have grading guidelines for the fourth nine-weeks. These guidelines provide that students will not be placed at a disadvantage as a result of the current situation and the fourth nine-week's grade will not be lower than the third nine week's grade. To view the complete grading guidelines documents for elementary/intermediate and secondary schools, please the Policies, Handbooks, and Forms webpage.
Conroe ISD Health Services
General Health Information Call Line
Nurses will be answering calls and providing CDC and DSHS information as well as other informational sources.
936-709-7791
Monday – Friday
8:00 a.m. to 3:00 p.m.
Free Meals
Meal distribution for students continues on Tuesdays and Thursdays from 10:00 a.m. – 1:00 p.m. at Austin Elementary, Caney Creek High School, Conroe High School, Grand Oaks High School, Hauke High School, Knox Junior High, Oak Ridge High School, The Woodlands College Park High School, The Woodlands High School, and Washington Junior High. Conroe ISD is working to promote social distancing and will be placing meals in the trunks of vehicles if an interior trunk release is available.
Facebook Live
The date of the next informational Facebook Live chat has not been scheduled, but will be announced on Conroe ISD's social media. Previous chats can be found on the district's Facebook page at www.facebook.com/CISDAllMeansALL or its YouTube Channel at www.youtube.com/channel/UCPEH-4re_QjZKBNjSUEFMHA.
Conroe ISD has also created a Facebook Live FAQ page on its website to post answers to the most frequently asked questions during these chats, which can be found at www.conroeisd.net/facebook-live-faqs/?fbclid=IwAR0_ni6m87R-53r15yYyet1HLH4-ktd_kKNh_ixwSLID27XKsX9HC_iJRpo.
For PreK and Kindergarten registrations, Facebook Live chats have been scheduled. These chats will also be recorded and can be accessed on the district's YouTube channel. There is also information on the district's website at www.conroeisd.net/parents/enrollment-information.
PreK registration: April 20th at 6:00 p.m. (English) and at 7:00 p.m. (Spanish).
Kindergarten and new student registration: April 23rd at 6:00 p.m. (English) and 7:00 p.m. (Spanish).
The following are FAQs with responses from Conroe ISD
What hours is the school district open? We are on an essential operations schedule. This means our campuses are completely closed, and staff are not on campus. However, we are still here to serve you. During this time, you may call the number on the campuses' webpages and leave a voicemail or send an email. Campuses have an email address at the top of their homepage for easy access.
When is the target return to school date? As of right now, we plan to return on May 4th in accordance with Governor Abbot's directive set on 3.31.2020.
If school returns May 4, can we still continue distance learning? Yes. You may choose to send your child/children back to school if we reopen on May 4th or you can choose to continue distance learning.
How will students be graded and receive credit for the fourth nine-weeks? Grading guidelines have been developed and emailed to all parents. They are also available on our Parent Resources webpage and Policies, Handbooks, and Forms webpage.
Will there be summer school? At this time, we do not know if summer school will be available.  It depends on when we can return to school.
Are graduations still taking place? As of right now, yes. Conroe ISD is still planning to hold graduations if the distancing orders at the time allow. If we are able to hold the events at The Cynthia Woods Mitchell Pavilion in May, we will. We have back-up dates in July. Sam Houston State University has canceled all high school graduations, which impacted Caney Creek High School. We were able to move Caney Creek High School's ceremony to The Pavilion. There may still be large group restrictions in place in May or July that could result in the ceremonies having no audience. We do stream all graduations online. This situation is fluid, but we are trying to hold graduations in some form to honor our students. Participation in the graduation ceremonies is optional.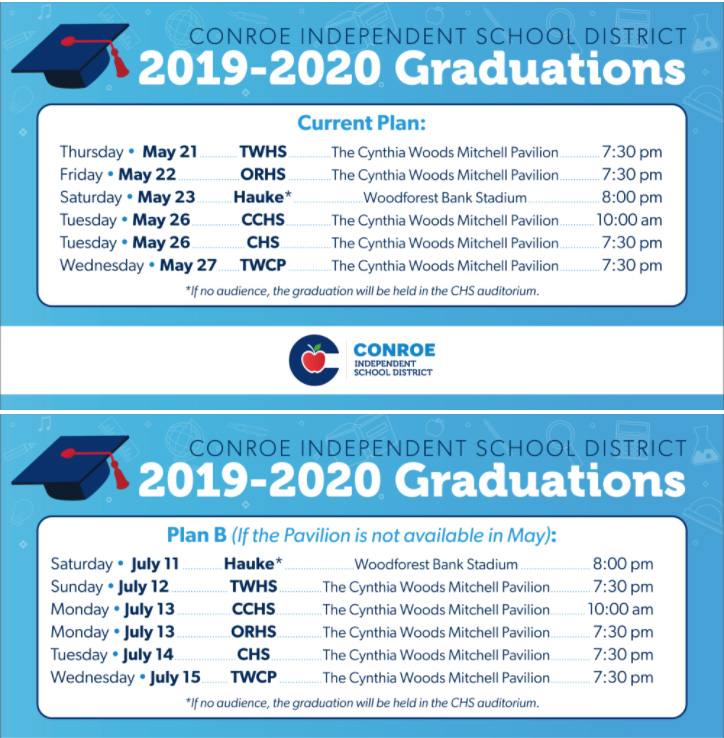 Will there be kindergarten graduations? Kindergarten graduations are determined by each campus. If we return this year, that will be a campus decision. If we return, we anticipate continuing restrictions on campus visitors and group sizes which would cancel these events.
Are proms cancelled? Yes, all proms have been cancelled.
What about senior dues and prom ticket refunds? Please reach out to your campus directly. They will be able to help with these issues.
How can students acquire a Chromebook? If a student is in need of a Chromebook, please contact your campus. They will be able to work with you to coordinate checking out a Chromebook, if available. Other learning methods are possible, as well, so that learning can continue.
Will students be ready for next year? We are conducting distance learning so that we may continue on with this year. We know there will be reteaching that will need to happen next year. We ask all of our students to do the best that they can now, and we will do everything to make sure each and every one of our students is successful.
Where can I register my new student? Online registration for new students opens on our Enrollment website on April 18th. We will also be hosting a Facebook Live on April 20th at 6:00 p.m. (English) and at 7:00 p.m. (Spanish) for information regarding PreK registration. We will host a Facebook Live on April 23rd at 6:00 p.m. (English) and 7:00 p.m. (Spanish) for Kindergarten and New Student Registration. All of these sessions will be archived and available for your viewing at a later time.
Will our feeding program continue? Yes, we will continue to provide meals for our students on Tuesdays and Thursdays from 10 AM – 1 PM.
What can I do to help the community? Please consider donating to or volunteering at the Montgomery County Food Bank.
Can teachers volunteer at the Food Bank during the day? Yes. Teachers may work at the Food Bank during on-duty time.
Are you still hosing the Job Fair? We are still hiring, and we are working on creating a virtual job fair. More information will follow, please stay tuned.
When will employees know if they have a job next year? We are not anticipating having to make any cuts at this time.
Updates will continue to be shared via the District's mass communication system, social media sites, and website.
Sources: Conroe ISD Website, Conroe ISD YouTube Channel, Conroe ISD Facebook Page