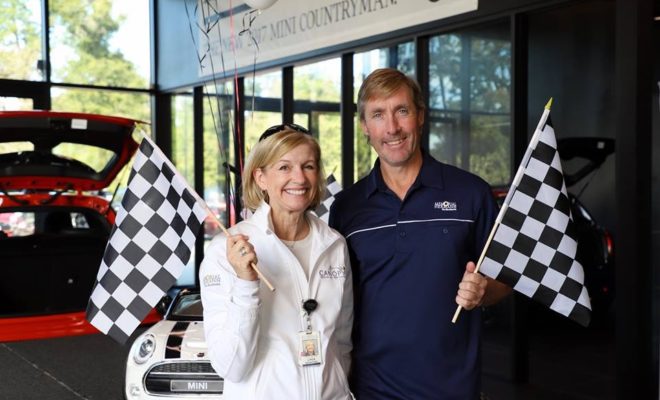 Events
Community-Wide Scavenger Hunt raises 20K for Canopy
By |
The Woodlands, TX— More than 300 attendees gathered at MINI of The Woodlands earlier this month for  Canopy Quest, an inaugural fundraiser event for Canopy, a cancer survivorship center at Memorial Hermann The Woodlands Medical Center. In its first year, the event not only raised money for Canopy, but also awareness of the services it provides for the community.
"We are proud to announce that Canopy Quest raised roughly $20,000, which will go directly towards programs at Canopy like art therapy and oncology nutrition," said Linda Nelson, Director of Marketing and Business Development at Memorial Hermann The Woodlands Medical Center. "We could not be more grateful to all of our sponsors and supporters for participating in our first annual fundraiser."
Canopy Quest, powered by ExxonMobil employee volunteers, as well as a powerful committee of Canopy volunteers, was a community-wide scavenger hunt where teams drove through the streets of The Woodlands stopping at local parks, retailers, restaurants and other establishments to complete a short challenge and take a picture before driving on to the next stop. The main thrill of the event was that the participants drove Mini Coopers during the scavenger hunt. 51 Mini Coopers were donated by Autonation's Mini Cooper of The Woodlands.
"Winston Churchill has a quote, We make a living by what we get, and you make a life by what you give," said William Blaise, ExxonMobil Strategic Marketing Advisor. "It was a true blessing for the group of volunteers from ExxonMobil to give back to the community and see the joy and happiness it provided many of the folks involved. I personally was overwhelmed by the number of Mini Coopers running around Hughes Landing and Market Street! The buzz it created was amazing, and seeing the smiles and joy on the participants' faces was contagious. We all appreciated being a small part of a great event and great cause."
After the scavenger hunt was successfully completed by all teams, the event culminated with a fall festival at Mini Cooper of The Woodlands.The Woodlands High School Interact Club set up a kid's activity area with a football toss, fishing area and other fun activities for the children. A silent auction and raffle was also available for participants to purchase tickets and bid. Additionally, light bites from local food vendors such as Goode Co. BBQ, Avenida Brazil The Woodlands, Berryhill Baja Grill, Dairy Queen and Divine Dogs were served.
"I loved the enthusiasm of the participants as they arrived at the challenge," said Claire Madden, Global Business Enablement Manager with ExxonMobil. "It was fun seeing multiple generations and lots of families taking part in the event, which was fabulous. I am proud of the ExxonMobil volunteer team giving up their Sunday afternoon for such a great cause! We look forward to participating again in the future."
Canopy is a first-of-its kind cancer survivorship center at Memorial Hermann The Woodlands. It is a community resource for survivors, regardless of where they received treatment or where they are in their cancer journey. It is a safe place to receive support and encouragement through intentionally designed free programs that meet the emotional, social, physical and educational needs of survivors and their families. Cancer affects the entire family, which is why Canopy provides care to the survivor as well as their whole support system. Programs like yoga, oncology massage, art therapy, support groups, wig/prosthesis fittings, doctor seminars and classes for children whose parents have cancer provide comprehensive care throughout the entire cancer journey. Canopy offers more than 60 programs on a monthly basis and has a team of 70 volunteers who work tirelessly to create a safe haven for those going through such a traumatic battle.