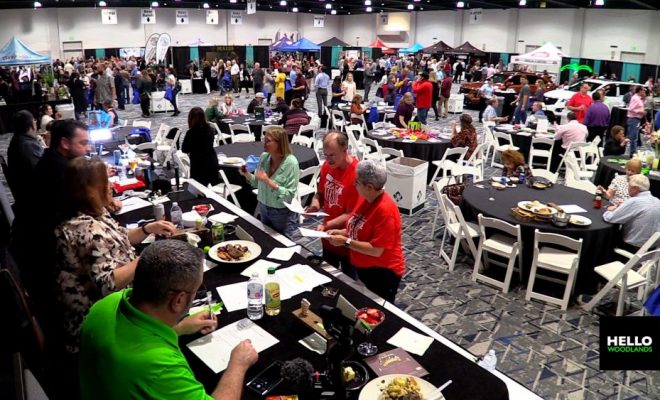 Photography by Rod Prado, Hello Woodlands
Food & Drink
2020 Taste of the Town Video and Award Winners
By |
2,800 attendees enjoyed a food paradise with delicious samples from nearly 40 local restaurants at the 34th Annual Taste of the Town on Thursday, January 16 at The Woodlands Waterway Marriott.
Watch our video below taken at the event where Jennifer Bruse, President & CEO of Hello Woodlands, interviewed TOTT Food Judge Nick Rama or Nick's Local Eats, Zach Richmond of The Richmond Realty RE/MAX The Woodlands & Spring, Constable Ryan Gable, and Woodforest Grille at the Woodforest Golf Club PLUS amazing food and fun moments by Rod Prado, Hello Woodlands Videographer.
At The Woodlands Area Chamber of Commerce's special event, local restaurants also competed in the "Best of Taste" competition for titles including Best Appetizer, Best Entrée, Best Dessert and the People's Choice Award.
The Taste of the Town Food Judges were:
Metta Marie Archilla-Ishida is a published Food Blogger (Cypress Lifestyle), contributor to PinPointe Magazine and a Founder of On Metta's Fork and the Cypress Area Eats Facebook groups and pages.
Shane McAuliffe – host of The Texas Bucket List, his show is dedicated to everything you have to see, do, and experience in the Lone Star State and a few things every Texan should venture out to try.
Nick Rama food writer, contributor of Hello Woodlands and Link Local, and shares his restaurant experiences on Nick's Local Eats and TX BBQ, Burgers and Brew Facebook pages.
Francine Spiering food and travel writer who loves to discover, first hand, where her food comes from. As the editor and contributor of Edible Houston, board member of Slow Food Houston and member of Foodways Texas, she is committed to the city's local community and actively promotes the regional gastronomy through her work.
Kerry Stessel and his wife are the culinary powerhouses behind the gourmet hot sauce company Hot Line Pepper Products LLC. Starting the company in 2010 with four gourmet sauces, the company has grown and is now in many retail stores, restaurants, and food service distributors including nationwide deals of approximately 2,400 stores.
2020 TOTT Winners
People's Choice Award: Killen's Steakhouse
Smoked pork belly burnt ends with a cherry habanero BBQ glaze
Best Appetizer: Johnny's Italian Restaurant
Johnny's Steak Nachos
Best Entrée: The Butler House
Malbec Braised Short Ribs, Garlic Mashed Potatoes, Reduced Braising Jus, Sautéed Carrot
Best Dessert: Nona's Italian Grill
Panna cotta (a creamy Italian jello /pudding with special berry sauce and fresh fruits)
Best Decorated Booth: Zanti Cucina Italiana
Taste of the Town featured 38 local restaurants, including 13 new restaurants from last year's event, as listed below:
Avenida Brazil Churrascaria Steakhouse
Babin's Seafood House
Benihana Japanese Steak House
Berryhill Baja Grill Cantina
Big Rivers Waterpark & Adventures
Black Walnut Café
Broken Barrel
Clean Juice
Craft Grill
Escalante's Fine Tex-Mex & Tequila
Goode Co. Barbeque
Goode Co. Kitchen & Cantina
Gringo's Mexican Kitchen
Johnny's Italian Steakhouse
Killen's Steakhouse
Kirby's Prime Steakhouse
LA Goulue Chocolatier
Lakonia Imports LLC
Landry's Seafood Restaurant
Mamarita's Mexican Restaurant Cantina
Morton's Grille
Natalita's #2 Mexican Restaurant
Nona's Italian Grill
P.F. Chang's China Bistro
Peli Peli
Radunare Italian American Table
Russo's New York Pizzeria
Schilleci's New Orleans Kitchen
Senor Burrito Company
The Butler House
The Conservatory at Alden Bridge
The Toasted Yolk Café
The Woodlands Waterway Marriott Hotel & Convention Center
Thistle Draftshop
Top Golf
Woodforest Golf Club
Woodson's Local Tap
Zanti Cucina Italiana
Learn more about The Woodlands Area Chamber of Commerce's event at at TasteOfTheTown.org.